Quadrivium: The Four Classical Liberal Arts of Number, Geometry, Music, & Cosmology (Wooden Books)
Listed by Members of Classical Passions
The books listed below are pulled from member's favorite book submissions.
By voting on the books listed, you can help to determine whether a book is related to the theme of Classical Passions, or whether it is a non-related, but popular, book among the members of the site. If you believe a book in the list below is 'on theme' with Classical Passions, vote that it is relevant. (If you don't know, just skip it.) Over time, we hope to have a library of books that should be of interest to Classical Passions members.


Calling All Readers! Like The Site Library?
Help Spread The Word...Tweet Our Crazy Awesome Awesomeness!
Sponsored Ad
go back to library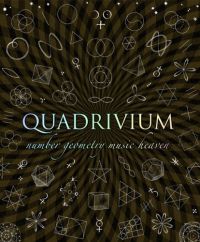 (click to view book on amazon.com)



Miranda Lundy, Anthony Ashton, Dr. Jason Martineau, Daud Sutton, John Martineau


The quadrivium√É∆í√ā¬Ę√ɬĘ√ā'Äö√ā¬¨√ɬĘ√ā'ā¨√ā¬Ěthe classical curriculum√É∆í√ā¬Ę√ɬĘ√ā'Äö√ā¬¨√ɬĘ√ā'ā¨√ā¬Ěcomprises the four liberal arts of number, geometry, music, and cosmology. It was studied from antiquity to the Renaissance as a way of glimpsing the nature of reality. Geometry is number in space; music is number in time; and comology expresses number in space and time. Number, music, and geometry are metaphysical truths: life across the universe investigates them; they foreshadow the physical sciences.

Quadrivium is the first volume to bring together these four subjects in many hundreds of years. Composed of six successful titles in the Wooden Books series√É∆í√ā¬Ę√ɬĘ√ā'Äö√ā¬¨√ɬĘ√ā'ā¨√ā¬ĚSacred Geometry, Sacred Number, Harmonograph, The Elements of Music, Platonic & Archimedean Solids, and A Little Book of Coincidence√É∆í√ā¬Ę√ɬĘ√ā'Äö√ā¬¨√ɬĘ√ā'ā¨√ā¬Ěit makes ancient wisdom and its astonishing interconnectedness accessible to us today.

Beautifully produced in six different colors of ink, Quadrivium will appeal to anyone interested in mathematics, music, astronomy, and how the universe works.



People who list this book:



go back to library
Classical Music Sites
Classical Music Info.
History Of Classical Music
News
Misc. Classical Sites
Online Dating Sites
Webcam Sites
Personals / Chat Sites
Instant Messaging/VideoChat
Funny Sites
ÔĽŅ