Jazz: Essential Listening
Listed by Members of Classical Passions
The books listed below are pulled from member's favorite book submissions.
By voting on the books listed, you can help to determine whether a book is related to the theme of Classical Passions, or whether it is a non-related, but popular, book among the members of the site. If you believe a book in the list below is 'on theme' with Classical Passions, vote that it is relevant. (If you don't know, just skip it.) Over time, we hope to have a library of books that should be of interest to Classical Passions members.


Calling All Readers! Like The Site Library?
Help Spread The Word...Tweet Our Crazy Awesome Awesomeness!
Sponsored Ad
go back to library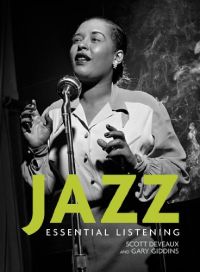 (click to view book on amazon.com)



Scott DeVeaux, Gary Giddins
The #1 text in the market—now in an Essentials Edition. Jazz: Essential Listening provides all the materials students need to listen to, understand, and love jazz. Written by two master storytellers, this new brief text combines a dynamic listening experience with vivid narrative history, must-hear masterworks, and a superior eMedia package to reveal the excitement of America's quintessential music. Authors Scott DeVeaux and Gary Giddins write with intellectual bite, eloquence, and the passion of unabashed fans. They explain what jazz is, where it came from, how it works, and who created it, all within the broader context of American life and culture.

People who list this book:



go back to library
Classical Music Sites
Classical Music Info.
History Of Classical Music
News
Misc. Classical Sites
Online Dating Sites
Webcam Sites
Personals / Chat Sites
Instant Messaging/VideoChat
Funny Sites